Affiliated Companies
HOME
> About the Company
> Affiliated Companies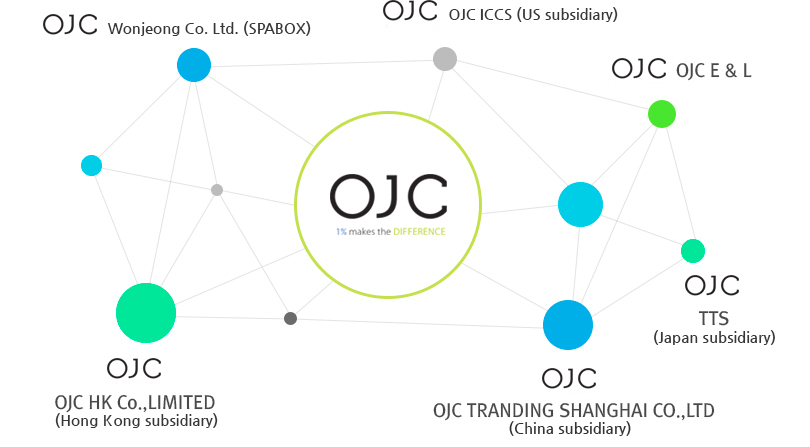 Wonjeong Co. Ltd. (SPABOX)

Spabox, the largest multi-sports center in the Gangseo area, was built as a landmark at the forefront of Korean golf culture since opening in 1995. It is a sporting and cultural complex that can be enjoyed by people of all ages, in facilities such as a golf driving range, fitness center, sauna, screen golf, children's gym and swimming pool. Spabox can accommodate up to 4,000 people, has a 120-seat indoor driving range, a 1,000-pyong (over 35,000 sq. ft.) hotel-class fitness sauna, a children's indoor gym and a swimming pool, and a 5-room indoor screen golf simulator facility, coffee shops, golf equipment shops and incidental facilities.
OJC E&L

OJC E&L, whose motto is to provide the best quality general pipe parts and optimal logistics services, is constantly striving to provide high quality products through the acquisition of original technology, and deliver logistics services to meet customers' needs in the production of packaging container parts to logistics for finished goods.
Address: 65 Chaekgol-gil(Yeonam-dong), Buk-gu, Ulsan Metro 683-805
Tel : 070 - 8686 - 5890 / Fax : 052 - 287 - 0224
OJC ICCS (US subsidiary) / Los Angeles, USA

It is an overseas subsidiary established in Los Angeles, USA to carry out marketing activities for the activation of portable fuel and gas appliances, and export new products, while playing a key role for the Americas (Canada, USA, Central America and South America). In addition to exports, we are also actively engaged in technical alliances and product diversification with US companies, by promoting the import of US advanced aerosol and various related products.
TTS (Japan subsidiary) / Tokyo, Japan

TTS Co. Ltd., established by OJC, is a specialized company that sells and distributes various living supplies such as portable fuel, gas ranges, disposable lighters, portable ashtrays, cooking igniters and aerosol-dispensing products throughout Japan. Based on the production capacity of OJC in Korea, various routes in China, and marketing and product development capabilities in Japan, we are growing into a leader in living supplies throughout Asia.
OJC TRADING SHANGHAI CO. LTD (a China subsidiary) / Shanghai, China

It is an overseas subsidiary located in Shanghai, China for direct sales in China of portable fuel and gas appliances as a key base in China. It is operated not only for exports and sales from Korea, but also for various sourcing activities in China and facilitating third-party trade with four local employees. It also plays a role as a bridgehead for expansion into the Chinese market.
OJC HK Co. LIMITED (Hong Kong subsidiary) / Hong Kong

As a form of investment corporation in China, it serves as a center for various globalization activities by utilizing its base for investment in China and Hong Kong's various global infrastructures.